Where to Eat in Glasgow | Restaurant Guide | Allergy Companions
Guest blog
Eating out
30.05.2022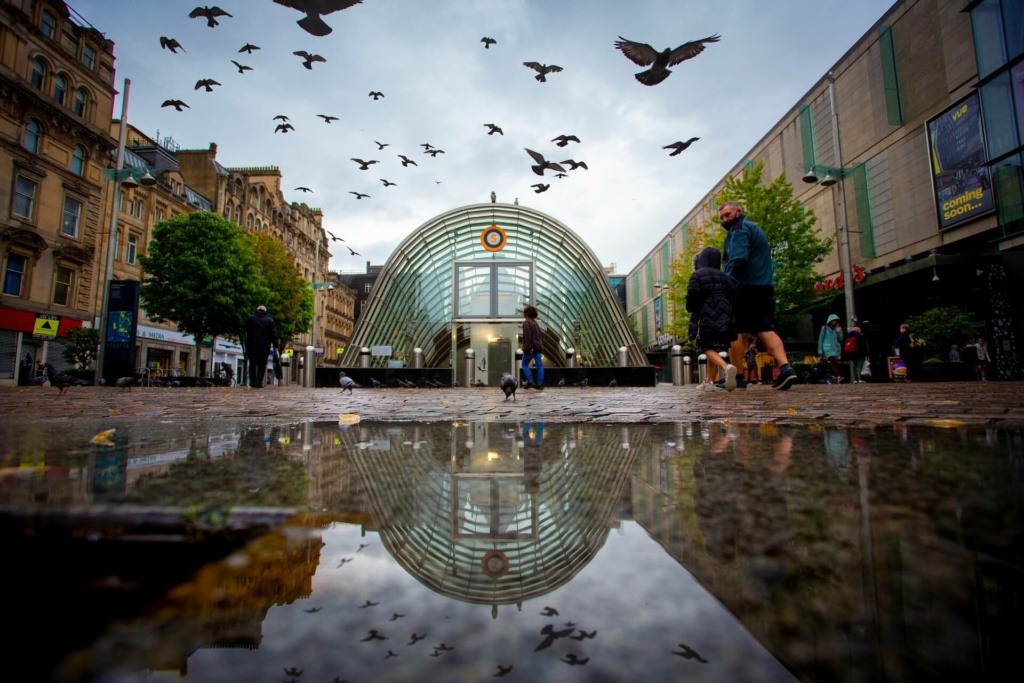 By Kirsteen Junor
Let me introduce myself… I'm Kirsteen, from Glasgow, and I'm 29 years old. At the age of 11 years, I was on a family holiday in Spain, where I suffered my first severe allergic reaction and shortly after I discovered I am severely allergic to nuts.
I've never liked nuts, even the smell of them was off-putting, but I never knew that I was allergic. In hindsight, there were probably some telltale signs; for example, a slight tingling in my mouth when eating certain chocolate bars. During this holiday, I suffered my first severe allergic reaction to peanuts after taking a bite of a cereal bar, which I didn't even ingest! After allergy testing, it was confirmed I was severely allergic to peanuts and tree nuts, and coupled with my asthma, the risk of anaphylaxis was high.
My consultant told me that if I had swallowed a bite of the cereal bar I would not have survived. As I'm sure you can imagine, that was pretty scary, and at 11 years old it was a lot to process. I was prescribed epi pens, and my dietician provided me and my parents with a list of do's and don'ts. Life as I knew it changed completely. I had gone from having no dietary restrictions to having the fear of another reaction, or worse, dying.
Living with a severe nut and peanut allergy
Fast forward through the rest of my childhood, teenage years, and almost all of my twenties, I have navigated through many allergy related challenges. From challenges at school & sports clubs, sleepovers, to eating out with friends, University, dating, holidays abroad, new jobs & living by myself!
I've seen some major changes to allergy awareness and legislation in this time too. I started my Instagram page @nutallergygirl to showcase that life can be normal with a nut allergy. I've built up a list of restaurants that positively handle allergies, share nut free products, and the odd recipe, as well as spreading knowledge to help others understand allergies and their impact.
The community I'm part of is amazing. I've discovered so many new places and I find it hugely beneficial when visiting venues that have been recommended to me. Being able to help others is so rewarding, so please check out my Instagram so we can connect there too.
My top recommendations in Glasgow
In Glasgow we are spoiled for choice, so making a weekend guide of the best places to eat at with a nut allergy has been harder than I first thought!
For some Friday night fun you have to head to the West End! I love tapas, especially coming into the warmer months, so Cafe Andaluz is the place to be. The staff are friendly, attentive and welcome you with a full allergen menu, I'm instantly put at ease here. Some menu favourites are the Pollo Rebozado con miel (Chicken fillets in a light crispy batter drizzled with a honey & grain mustard dressing), Croquetas de Jamón y Queso (Crisp croquettes stuffed with Serrano ham & mozzarella cheese, served with garlic alioli) & Paella Tapa (A delicious combination of slow cooked Calasparra rice with chicken pork, morcilla and chick peas). Situated right beside the bright lights of Ashton Lane, this restaurant makes for the start of a perfect Friday night.
After a night out in Glasgow, you'll need a decent brunch, or maybe even a hair of the dog. I couldn't possibly write a guide to Glasgow without including Partick Duck Club. I've been here countless times, and always recommend it to anyone and everyone! Their menu has an allergen key, and every time I've been, the staff have been knowledgeable and totally on the ball. They always double check my order with the kitchen staff, no matter how busy they are, and are happy to make changes to a dish to ensure it is 100% safe. The food is unbelievably delicious; I've never had a bad dish here. I'd recommend the avocado on sourdough with spicy nduja, crème fraiche & pickled shallot, and even though it's brunch time, you must try the infamous duck fat fries!
The Dhabba, a completely nut free Indian Restaurant! Yes, you read that right. This city centre restaurant specialises in North Indian cuisine, so don't expect a boring Chicken Korma on this menu! I've been here on countless occasions and all the dishes have been so flavoursome. The menu states: "All the food on this menu are prepared without using nuts, peanuts, sesame, mustard, celery, lupin and sulphites. Our standard operating procedure ensures that all the ingredients we use in our kitchen are free from these allergens." If it's your first time here, I'd recommend one of the sharing tasting menus; the Neelam is my favourite. The stand out dishes were the Anari Macchili, the Laal Maas & the Murg Kadai, but there literally wasn't one dish I didn't like! The ability to choose anything from the menu knowing it is completely safe is a dream.
Another favourite brunch spot of mine is Urban West, in Glasgow's West end. This cosy West End cafe is always super popular; they don't take reservations, but it is worth the wait. The menu has a good selection of sweet and savoury options, and although the menu doesn't have allergy advice, the staff have always been very accommodating of my allergy and tweaked dishes accordingly. The classic breakfast rolls are always a winner, and the berry compote breakfast waffles would satisfy the sweetest tooth. 
To round up a weekend of eating in Glasgow you've got to enjoy a luxurious Sunday steak meal. I couldn't complete this guide without recommending one of the newest additions to the Glasgow food scene, Chateau-X. Located in the Finnieston, this steakhouse offers something a little different. Their menu consists of a Chateaubriand for 2 people, for £35, accompanied with a choice of sides. The chimichurri sauce is my favourite, alongside the side of carrots (who knew carrots could be so delicious). The complimentary dessert of an Ice Cream Cone with raspberry ripple sauce is a sweet touch.
Thank you!
Thank you very much for reading my blog on my home city. I hope my recommendations help if you ever come to Glasgow and, of course, check out more reviews on the Allergy Companions website. I try my best to keep both my Instagram and this website updated whenever I visit anywhere new!
Lots of love,
Kirsteen xx
You might also enjoy reading Coeliac Disease… and its ups and downs!