Where to eat and what to do in Bath, Somerset and Wiltshire | Allergy Companions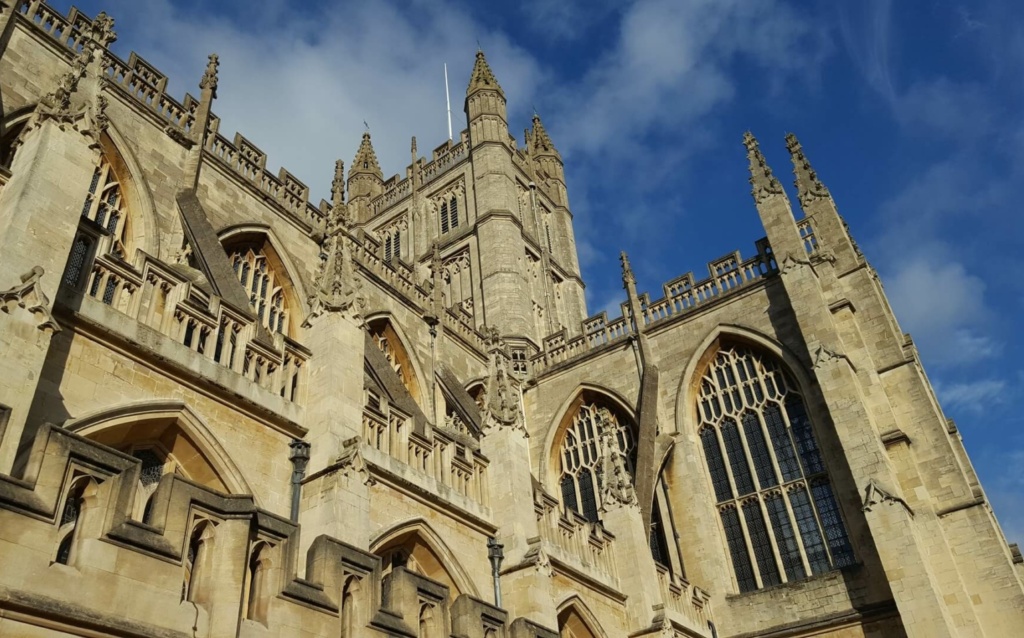 By Liljia Polo-Richards
"The daffodils are out, the sun is shining and it's time to leave your winter lair for some fresh air and spring excitement in Bath.
Stroll through Georgian streets and parks full of blossoms. Taste fresh seasonal produce and experience Bath's food and drink scene and discover exciting events such as the Bath Comedy Festival and the Bath Festival. Bath is beautiful at any time of year, but there is something special about the city in Spring, as it shakes off the cosiness of winter and feels fresh and inspiring." Visit Bath
Well, I couldn't agree more. Bath is charming at any time of the year, but there is something quite special about this city when the sun is up until later in the day and the flowers brighten up the parks and streets with their colours.
I had been planning a break away with the family for some time, and Easter seemed the perfect time to go away and explore BAth, Somerset and Wiltshire, with the kids. We booked to stay in a lovely Airbnb in Cold Ashton called "the Pigshed studio". It was perfect: quiet, in the middle of the countryside, spacious enough for a family of four (2 beds, 2 baths, living room and kitchen) and with a lovely garden that the children could use. The location was fantastic, as it would only take five minutes to drive into Bath and on the days we wanted to explore the area it was easy enough to venture on the road.
As you can imagine, James and I spent some time researching where we could eat while on holiday and also looked through the existing recommendations on our website to see where we could go.
My top recommendations
I wouldn't be writing this blog if I didn't feel I had some great places to recommend to you. However, as you will read later on in my blog, there is still a long way to go in terms of finding suitable and safe options for us a family throughout the day. Spontaneity, little trips to the cake shop or the ice cream parlour are still something we aspire to enjoy a little bit more.
Day 1
As we arrived later in the day, I had planned something really easy and quick for dinner, which all of us love: PIZZA!!!
The Bath Stable seemed a great option, as we had previously visited their restaurant in Birmingham and we liked their take on pizzas (slightly different to the traditional Italian version and they use Glastonbury mozzarella!) – they provide a chilled environment, they are kids friendly and their prices are reasonable. My only frustration, and you can read this in our review, is that they struggle to provide safe options for desserts. This was fed back previously, and I am sure other customers with allergies have experienced the same frustration, and it feels such a shame as if Stable Pizza could tweak who they procure their sweet treats from, they could actually increase their revenue as most people would very much want to order a dessert. A small change would mean a lot to people who struggle to find a suitable dessert that meets their allergy needs. Salcombe Dairy could perhaps be considered as an ice cream brand, as they have flavours to suit pretty much all allergies?
Other than that, a lovely meal and a reliable option if you are in Bath.
Day 2
We briefly started the day in Bath, as I had spotted on the Internet a little cafè/bakery that had a safe nut free hot chocolate option. Mrs Potts Chocolate House was a very sweet place that served cake and hot chocolate. The concept was lovely, and it was great to be able to find somewhere to have "proper hot chocolate" that was also nut free; however, it was a shame that their cakes seemed to be mainly suitable for those suffering with coeliac disease or that choose to have a vegan diet, as the nut free cakes could not be guaranteed 100% nut free. Hopefully next time we visit they will have more safe options for different dietary requirements.
Lunch
We then left Bath, as for our second day I wanted to have a relaxing day out, and be surrounded by nature, so I had booked to go to the Pig Near Bath. This place holds a special place in my heart, as the last time I had visited it I was pregnant with Francesco and I remember having such an amazing time that I wanted to take my children there.
Before our visit, I gave the hotel a call to be certain that they could cater for our allergies and also to make sure that there wouldn't be any issues on the day. The lady on the phone kindly reassured me that they take allergies very seriously; she mentioned that they don't use peanuts in the kitchen and that the kids menu doesn't contain any nuts, which sounded great.
On the day, "we sat outside, the kids (tried) to play croquet and it was just one of those days were things seem good. The venue was really hot on allergies and the server was great at listening to our comments and taking on board our feedback. We had an amazing 'buffallicious' mozzarella starter followed by pasta dishes, pork and pigeon. We had the "piggy four" (petit four) and also a crème caramel with shortbread biscuit for the dessert. Afterwards we had a walk in the vegetable gardens and to be fair felt like little piggies ourselves after all the food! I really liked the way they dealt with queries and went back and forth to the kitchen to check."
My only feedback would be on the bread, as they couldn't be sure it was safe as it's sourced from a bakery. They did mention trying to use pizza bread but unfortunately they use nuts on their pizzas and in the pizza ovens. This is a real shame, as other places that have nuts on their pizza menu tend to use these in a separate area and never in the oven. Perhaps some food for thought for the Pig?
Overall, we couldn't fault the staff and their care, and the food is simply delicious… and the setting is purely delightful. You couldn't ask for a more beautiful place to enjoy a lunch, especially during the spring and summer season.
The Pig Near Bath is part of The Pig Hotel group, whose hotels and restaurants are dotted around the South, South East and South West of England (Hampshire, Dorset, Devon, Cornwall, Kent and West Sussex). You can also read their review of The Pig at Harlyn Bay here.
Dinner
For our dinner, I had booked a table at La Terra, right in the centre of Bath. Before booking a table, I spoke with the manager who reassured me that all their food is cooked fresh by them in the kitchen so they know exactly what is in each dish and also they are happy to flex their menu to meet the customer's requirements. It all sounded very reassuring and we were met by the same attitude during our meal.
The food was all delicious and we enjoyed a variety of dishes, all cooked safely for our family. We even managed to squeeze in some dessert at the end and ordered a portion of their homemade tiramisù to take home with us. It was creamy and delicious!
La Terra was a great discovery in Bath and you should definitely pay them a visit, as they can cater for all dietary restrictions.
Day 3
We couldn't have gone to Bath for a few days and miss the opportunity to visit Longleat, especially as the kids are now at an age where they really enjoy this kind of experience. We had booked our tickets in advance, which was super handy as you simply turn up with your car, show your e-ticket and park.
Lunch
Before visiting Longleat, I had tried to call them to ask about their restaurants and if they could cater for people with allergies; although I was promised a call back, I never received the information I needed, even after a couple of calls. We opted for a picnic lunch instead, which we really enjoyed eating on the grass after a busy morning of animal watching and bird feeding!
I find it a real pity that day attractions are still very much a "tricky category" when it comes to knowing whether they are good with allergies or not. It is very difficult to find useful information online other than generic statements with no allergen menus. I often hear from friends who are in a similar situation that they often prefer bringing their own food rather than turning up and having a banana for lunch! The website is there as a resource for people to share their experiences, so if you have recently visited a day attraction (National Trust, Legoland, Peppa Pig World, cinemas, etc.) please use Allergy Companions to share your experiences and help others find places that can accommodate their dietary needs. Aside from the food experience (or lack of), Longleat was amazing; we had the best time, especially when we had monkeys climbing all over the car!
Dinner
For dinner, I had booked to go to Dough, a super special pizza restaurant that I cannot stop thinking about! Being Italian, I grew up eating normal sourdough pizzas all my life. Forget that, Dough offers eleven different pizza doughs, five of which completely gluten free. Wow!
One of our lovely followers on Instagram suggested them as they had been really good with his allergies previously, and I am so glad I booked it. I really wanted to try something different, so I ordered the vegetariana pizza on a "gluten-free seaweed" base and it was pure heaven: fluffy, tasty but delicate at the same time, and the toppings worked really well with the seaweed flavour. The waitress was very attentive and very responsive to our allergen queries. All in all, a superb experience. 10/10
Day 4
For our fourth day, we decided to visit the gorgeous Wiltshire town of Bradford on Avon. You might wonder why we chose to go there. One of our lovely followers left a stunning review for Timbrell's Yard, which really caught my eye as the restaurant is completely nut free and the food sounded delicious. This really shows the importance of submitting reviews on the website, and leaving reviews for places already listed, as the more reviews we share the more options there are available to us all over time.
Lunch
Our lunch at Timbrell's Yard was incredible: the food, the ambience and the wonderful staff made our experience exceptional, as you can see from our review. As a family, we don't expect restaurants to suddenly eliminate the things we as a family are allergic to (nuts and fish); however, when food venues decide to remove those allergens from their kitchen it means that you can really sit back and enjoy your meal that little bit more.
The staff had a lot of time for us a family, and enjoyed learning about Allergy Companions and the reason behind our website. The chef was particularly interested in the idea, as he's really passionate about creating food that can be enjoyed by many. The hotel and restaurant are part of the Stay Original group, and all their restaurants seem to reflect the same passion about food and inclusion. Big thumbs up, definitely one to add to your list of places to visit.
We decided to stay at home for dinner, as we were leaving Bath the day after.
Disappointing things about our trip
As I mentioned at the beginning of the blog, I am really excited to be able to share great recommendations on my blog and the website. However, as Allergy Companions was only launched in October, there is still a long way to go in terms of finding recommendations for all venue types. Whilst going out for a dinner might not be too difficult, as you can always more or less find a suitable option, it upsets me that as a family we struggle to find some of the things that I used to do when I was growing up.
As a mum, I have never been able to take my son out for a cup of tea and cake. I have had afternoon tea at hotels, but coffee shops too often have cakes that are stored all on top of each other, nuts everywhere (and all the other allergens seem to be all together too). This makes it so difficult to have the confidence to find any safe options anywhere, and each time I walk into a cafe or a bakery I get the same answer: all our cakes and breads are prepared in the same environment so they are not suitable to those with allergies. In Bath, it seemed to be the same case for ice cream parlours. Heartbreaking, especially for a small child.
It is amazing to see more and more cafes and bakeries that provide safe options for people with allergies being reviewed on our website. However, I would love to see more choices being reviewed across the country – if you are reading this blog and you think you can recommend any cafes, bakeries, or in fact anywhere that serves food, please take the time to leave a review on this website. Your review will make a difference to so many people.
Things to take away
Bath and the surrounding areas, including Wiltshire, are a gorgeous place to visit. So much history, lots of outdoor activities and towns to visit, and if you decide to book a holiday around Spring time you really cannot go wrong.
I very much enjoyed taking my family here for a well deserved break, and I feel we had the perfect balance between enjoying the great outdoors and lots of lovely meals out, and obviously a lot of quality family time together.
I really cannot wait to visit the area again, and hopefully next time we will be able to enjoy a slice of cake or ice cream too!
Thank you
Thank you for taking the time to read my blog. I really hope you found it useful and informative.
You might also like to read our "Eating Out with Children" blog.