Brighton and Hove Stacation | Guide | Allergy Companions
Guest blog
Travel
24.06.2022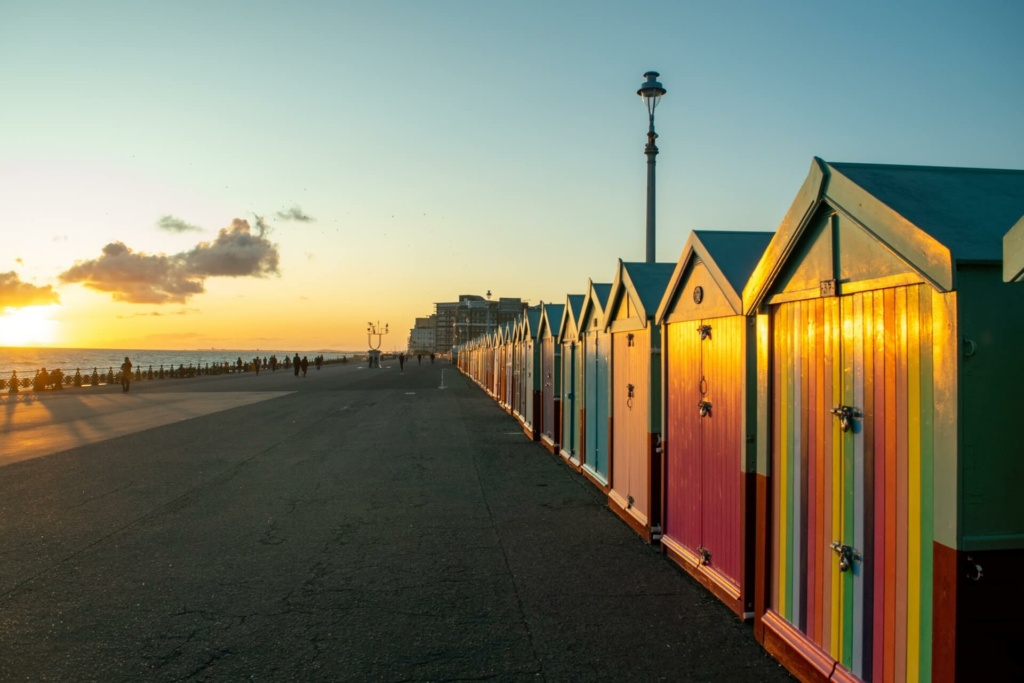 By Amrit Forrester
Brighton and Hove Staycation 
My name is Amrit and I have lived the majority of my life being anaphylactic to peanuts and tree nuts. When growing up, being of dual heritage, I was surrounded by both British and Indian cuisine. Food is a big part of my culture and I have always loved experimenting with my cuisines and different flavours. Over lockdown, I started a design page @amritsdesigns where I sell digital art commissions. This is my passion, and drawing and creating has always been my escapism when navigating my allergy anxiety.  I have also recently started a food blog @nonutsandme on Instagram sharing my experiences of living with severe allergies. I have been combining both of these hobbies and have been creating my own digital designs for my food blog and have created logos for fellow allergy bloggers. Regardless of the severity of my allergies, I have never let it hold me back, it is a big part of my life but I have tried to not let it define me. I still love to eat out and explore, whether it be a staycation or a holiday somewhere sunny! 
In this blog post I will specifically be sharing my experience of eating out in Brighton & Hove on staycation with a severe peanut and tree nut allergy. I have actually visited Brighton quite a few times as it is only a short train ride away from me. My last trip was in June 2021 as a birthday surprise with my boyfriend. The trip was so good we decided to extend our stay an extra night. This guide shares some of the best places we ate and drank at, and the overall experience I had eating out with my nut allergy.
Birthday Dinner – Argentinian Cuisine
For my birthday dinner me and my boyfriend ate at an intimate authentic Argentinian restaurant called Baqueano. The menu included traditional dishes like Argentinian steak, empanadas and creme caramel dessert. The dishes were fresh, simple but flavoursome. As it was a family run restaurant the experience was very personable and they were able to cater for my nut allergy well. My boyfriend had informed them of my allergy when he booked and also when we arrived. I ordered the fillet steak and red wine. The owners were very welcoming and understanding. I was particularly impressed with their knowledge of the cuisine and the origin of the ingredients. I must say, this reassured me and added to the safe experience. The evening continued with drinks at a bar called No32, which had a lovely rooftop with an outdoor seating area. We stayed here for cocktails and continued the birthday celebrations.  
Breakfast/ Brunch
We were spoilt for choice with the breakfast spots in Brighton and Hove; we ate at The New Club (which I had been recommended by a fellow allergy blogger), The Breakfast Club, Mange Tout and my personal favourite Jo & Co, which was in Hove. I loved the decor and went for the Jo's Full breakfast which was delicious. The owner was welcoming and took note of my allergy when I was ordering. Unfortunately, I did have two not so good experiences trying to find breakfast where they informed me I couldn't be accommodated. To avoid this happening again, I would strongly recommend doing research by either calling or emailing beforehand. It is also important to read reviews and to get recommendations from first hand experiences. If you apprehensive about trying somewhere independent there are plenty of chains such as The Ivy and Bills, or even a Wetherspoons if you are looking for a cheap and cheerful brunch.  
Activities and Things to Do 
Brighton is the perfect staycation for families, couples and friends. You can stroll down the The Lanes famous for the antique and boutique shops. There are a lot of independent bars and restaurants. There are many activities like the glow in the dark golf, the arcades or fun fair rides on the prier. When it is a sunny day Brighton is perfect for visiting the beach. Brighton is also famous for its historical landmarks like the Royal Pavilion and if you are not afraid of heights there is the British Airways i360, which is an observation tower offering views of the city.
Accommodation Airbnb & Boutique Hotel
Whilst on our staycation we stayed in two different really lovely accommodations. For the first few nights we stayed in a spacious flat in Kemptown that had a fully equipped kitchen with a dining table, living area and sofas. The space was big for two people and it was nice to have a kitchen with cooking facilities in case we needed to self-cater. On a whim we stayed one more night at a boutique hotel room. It was very compact but nicely decorated with all we needed for 1 night stay. It was only down the road opposite to the Airbnb we stayed in and was very central and in walking distance to all the hustle and bustle of the city. 
My Staycation Summarised
Brighton & Hove is an accommodating city if you have an allergy and you are not short for choice of either independent or chain restaurants. It's a great place to quickly escape London and enjoy the seaside town experience. The people are friendly and there is so much to do to keep you entertained. When I visit next I am determined to find a nut safe ice-cream parlour. I am hoping with time, and more awareness, this will be possible. If I was to take anything away from my experience, it would be to plan ahead just like you normally would with an allergy. Once that is out the way you can end enjoy your staycation and explore all the brilliant things Brighton and Hove has to offer. 
Thank you
Thank you so much for reading my blog. You can follow me and my journey on @nonutsandme