Amy Langfield, Co-Founder of Grow with Iris | Plant Based Growing Up Drink | Guest Blog | Allergy Companions
Eating out
Guest blog
07.03.2023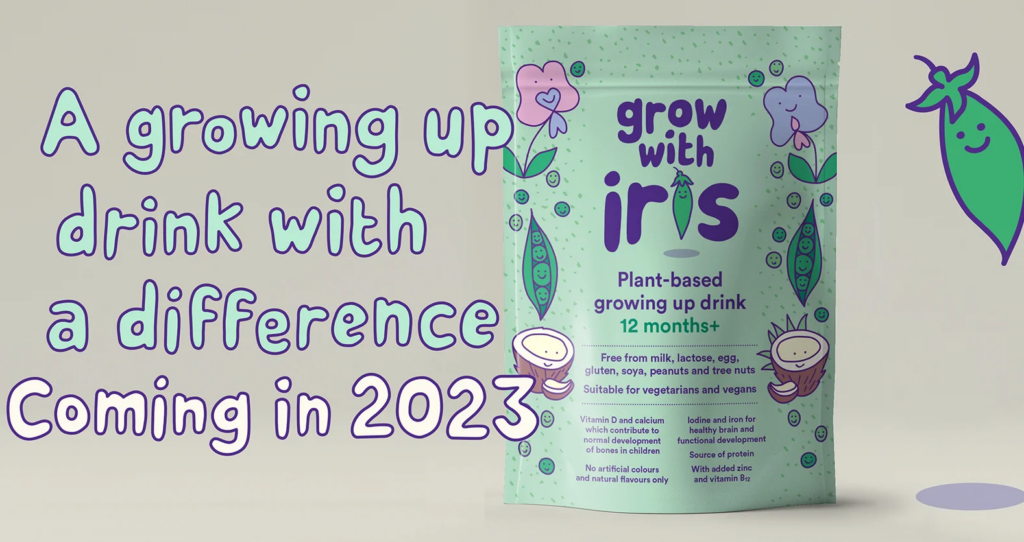 Iris' story
Iris, my daughter, was diagnosed with numerous allergies when she was four months old. Her allergies included: dairy, oats, bananas, wheat, soya, eggs, tree nuts, peanuts, and sesame – quite a daunting list as first-time parents. Now, Iris is coming up to six years old we have learned to adapt and refuse to let her allergies get in the way of her having fun and experiencing all the good things in life.
Grow with Iris
Fed up and frustrated by the lack of choice for nutritional milk alternatives when Iris was growing up, I knew we could not be the only ones. I wanted to help others, so started to develop Grow with Iris to offer a delicious option for children with allergies or for those who would prefer plant-based alternatives to milk. Grow with Iris is proudly free from dairy, soya, gluten, eggs, peanuts and tree nuts. Paediatrician and Dietician approved, fortified to support the nutritional needs of growing toddlers and children, meaning no more separate vitamins and milk.
The ultimate 'safe' dining out experience: Sketch London
I want to talk about – the most incredibly inclusive dining experience I have had as an allergy Mum. Eating out with Iris has always been a worry. At special times in our lives like big birthdays, you want to go somewhere special, to feel special, and why should someone with allergies miss out?
At the end of 2021, around Christmas time for Iris' present I took her to see Frozen the musical and thought "what better place to add to the magic but a restaurant that is completely pink, Iris' favourite colour". There could only be one place, Sketch London. 
I remember thinking they would instantly turn me away. How ridiculous, (at the time) a four-year-old child with many allergies, I was sure they would point blank say they cannot cater for us. I could not have been more wrong. On the phone, the restaurant manager was positive that they could make a completely safe, afternoon tea fit for a princess, taking into consideration all our requests. A week before, of course, like the typical allergy parent that I am, I called to double check they could still do this as it seemed too good to be true; it was a surprise and I wanted it all to go smoothly. I was overwhelmed with the reassurance I received; the booking was confirmed.
The day came, we put on our glad rags and jumped on the train to London. We opened the front door to Sketch to the most unbelievable décor of beautiful kitsch, Vegas inspired lights. I gave the waiter a heads up and a reminder of our dietary requirements and he confidentially told me it was all in hand.
The tea arrived piled high with delicious treats. But I stopped in my tracks with a pang of anxiety in my stomach when I saw little, perfectly formed French macaron perched on the cake stand. I felt sick, not only could these contain almonds but eggs too. I subtly spoke to the waiter trying to hide my worry, yet to my amazement he told me they had been made free from her allergens especially for Iris and me. I can feel myself welling up with emotion as I write this, the relief and gratitude I felt was incredible. This once in a lifetime experience really was magical, we enjoyed the delicious food, carol singers, the ironically egg-shaped toilets and the dusky pink surroundings and memories were made for life.
Inclusive dining
What could have been a snooty and stressful experience was quite the opposite, it was a delight and all because Sketch was not fazed by Iris' allergies, they embraced them, she was included in the fun all because they were willing to go that extra mile. The exceptional service we experienced on that day is not something we regularly receive, having been turned away from establishments as they just cannot be bothered to educate their staff. Sketch displayed an example of inclusivity and have set the bar tremendously high and to that I will be forever grateful.
Thank you
Thank you so much for reading my blog.
Grow with Iris will be available to purchase later in 2023. If you would like to try the product for free, please go to Try our product | Grow With Iris.  Become part of our 'Grow with Iris' community by joining our mailing list Plant-based growing up drinks | Grow With Iris and why not give us a follow on Instagram and Facebook.  
Love,
Amy xx