A little guide to Trieste, Italy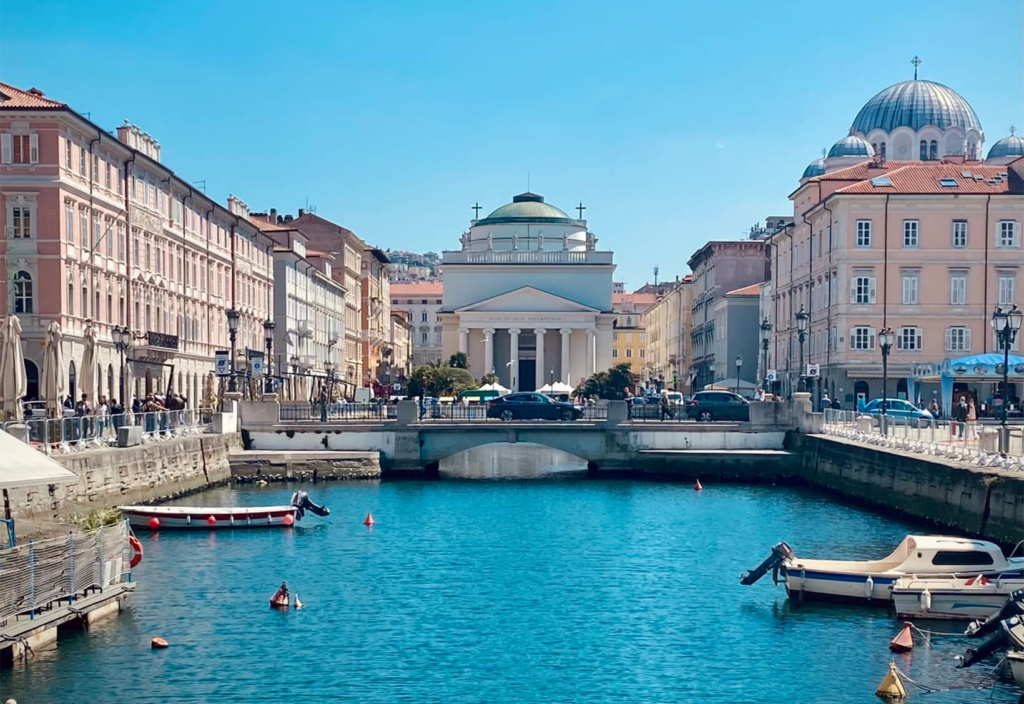 By Liljia Polo-Richards
"Tumbling down to the Adriatic from a wild, karstic plateau and almost entirely surrounded by Slovenia, Trieste is physically and psychologically isolated from the rest of the Italian peninsula. As such, it preserves its own unique border-town culture and retains a fascinating air of fluidity encapsulated in the Triestini dialect, a strange melange of Italian, Austrian-German, Croatian and Greek." Lonely Planet
This is my gorgeous home town, the place where I spent the first 19 years of my life before moving to the UK to study. For those of you who have not heard of Trieste, you honestly should look it up – it is a beautiful city by the sea on the Adriatic coast, nicely positioned right next to the Slovenian border and only a couple of hours away from Venice. You can easily get a direct flight to the local airport from London Stansted, unless you wish to fly to Venice to then jump on a train to reach the city.
I never thought I would write a blog about Trieste, and certainly I never expected to write a blog that offers useful tips for people avoiding gluten or suffering from food allergies. As I speak Italian perfectly, with it being my first language, and having spent so much of my life in Trieste, it makes perfect sense for me to offer you some tips on what to expect and where you can go if you are planning a trip to Italy soon.
Things that pleasantly surprised me
One of the things I absolutely love about Italy is the clarity of information disclosed on any food products you buy in shops. Expect very clear labelling, no matter what you are buying: bread, biscuits, chocolate, pasta, ready-made meals, you name it – pretty much anything you see in shops and supermarkets gives you the information you need on allergens contained in products and may contain warnings.
I found the same level of detail to be adopted by the majority of bakeries and delicatessens that had food on display – to me, it felt that there was a much higher level of information offered to the consumer. It didn't mean that more options were available to those avoiding certain allergens, but at least you knew what you could and couldn't buy. More UK establishments should learn from Italy, for sure!
Things that I wish were better over there (not that they are better this side of the continent!):
The experience of going for a spontaneous coffee and cake is certainly not what we experienced while we were in Trieste. If you don't have any dietary concerns, Trieste is home to a number of beautiful bakeries and coffee shops, where you can indulge in the most amazing cakes… all day long. Unfortunately, our experience of enjoying sitting in one of the local cafes was limited to having a cappuccino and freshly squeezed orange juice. People who suffer with allergies have little choice, as pretty much all the cakes are made in an environment that handles gluten, milk, eggs, nuts and peanuts, to name a few allergens!
We resorted to bringing our own treats, and the Fodilicious mini cookies followed us wherever we went so that our boy could enjoy them while sipping his freshly squeezed juice. At least we could soak up the coffee shop atmosphere in some way! Be careful if you suffer with a peanut allergy – the majority of cafes tend to serve peanuts with your aperitif, so make sure you tell them you have an allergy to "arachidi" or "noccioline" before they bring your drinks. If you are a coffee lover, always look out for the "Illy" sign outside coffee shops, it's the best coffee brand you can ask for and it is also from Trieste.
Here is a list of our favourite cafes, even if you can't indulge in the cakes:
Caffè Ferrari, Via San Nicolò 18/a – a modern cafè right in the centre of town, where you can grab a quick coffee, glass of wine or freshly squeezed juice (we particularly loved the pomegranate, grapefruit, orange juice and lemon one). They had pre-packed gluten free biscuits on offer, but all other biscuits were packed full of allergens.
Pep's Cibi e Vino, Piazza Verdi 3 – a really sweet cafè next to Teatro Verdi, a minute walk from Piazza dell'Unità d'Italia, a gorgeous square overlooking the sea.
Caffè degli Specchi – Piazza dell'Unità d'Italia 7 – One of the most well known historic cafes in Trieste. Its beauty lies in its location, right on the square. Admittedly, it has become a bit of a tourist spot, so don't expect a very traditional Italian welcoming, but nevertheless it is definitely worth a visit if you want to experience a slightly posher atmosphere (if you are sitting indoors) or you simply want to sit outside and enjoy your surroundings.
La Piazza, Eataly, Riva T. Gulli 1 – if you happen to visit the Eataly building and do a bit of food shopping while you are there, La Piazza is a great spot, right by the harbour. The views from the cafè-eatery is simply gorgeous… all you can see if sailing boats and the sea. Although we enjoyed our drinks there, we were disappointed by the lack of allergy friendly products, given their proximity to the food hall, which has plenty of options for all dietary needs. This was fed back to their manager, who did not seem to take much notice of the fact that it would be an easy-to-fix problem… nevermind, we at least enjoyed the atmosphere!
Bar Viezzoli, Via della Cassa di Risparmio 7 – pre kids, this used to be our favourite "coffee and cake break" cafè in Trieste. It's again in the city centre, so it's super handy if you are out and about and are looking for somewhere to sit down and rest your legs. They make all their cakes and bread, and again, expect lots of may contain disclaimers on their products!
For those suffering with coeliac disease, there are a couple of gluten-free bakeries you can try:
Pasticceria da Ily – a gluten-free patisserie, which also offers cakes for people with lactose-intolerance or that follow a vegan diet,
Un Mondo Senza Glutine (a world without gluten) – a 100% gluten free bakery.
While we there, we enjoyed eating at the following places:
Pizzeria di Napoli, Via Diaz 10 – a modern and informal pizzeria right behind the main square. They have a clear and easy to understand allergen menu, so you can see if what you are ordering is safe for you. We ordered pizzas, gnocchi and grilled chicken with vegetables – they were all good options (nothing fancy), perfect for a quick, fuss-free lunch. The waiter was very attentive, and even checked if the oil they use to fry their chips was suitable for our table, which it was.
Antica Trattoria Suban, Via E. Comici 2 – one of the most well-known restaurants in Trieste, given it's been around for the last 157 years! At Suban you can expect a very traditional Italian cuisine, coupled with equally traditional décor, with influences from the Istria region. Expect all members of staff to be very attentive when it comes to allergen queries and concerns – I was able to call the restaurant in advance and discuss our dietary requirements, and what would be safe for us to have given we have to avoid tree nuts and fish. We were offered a number of suitable options, and decided to go for the "tris" of pasta dishes, which was delicious. Even though we personally loved the food, the flavours are probably better suited to a more grown-up palate so I probably would not choose to go again with children. I definitely recommend Suban if you are looking for a safe option while you are visiting Trieste.
L'Osteria del Vento, Eataly, Riva T. Gulli 1 – a lovely Italian restaurant on the second floor of the Eataly building, with a variety of dishes on offer, from light starters, to homemade pasta dishes, fish and meat courses. We called in advance to inform the restaurant about our allergies, and they asked us to discuss our requirements once there. The manager was very professional and accommodating, and was able to tweak a couple of dishes to make them kids and allergy friendly. Unfortunately, we were unable to have any of their bread during our meal, as it's made by their bakery, which handles nuts. Overall, we had a lovely experience and felt well looked after.
Il Melograno, Via di Cavana14 – Last but not least, our new favourite restaurant in Trieste. This restaurant certainly deserves a special mention! My brother had visited this place a couple of days before me, and because they seemed to be really clued up on allergies, he thought it would be a good place for us to try. We decided to pop in to check it out and we are so glad we did. First of all, we wanted to ask about their bread and how it was made, and to our surprise we were able to order it daily from them, as they could guarantee it is 100% nut free (and delicious) – I know it's simply bread, but being in Italy and not being able to order fresh bread from any of the bakeries is highly depressing! We ended up having a couple of meals there, as they were simply amazing at catering for people with allergies and their food is also super yummy. Although we don't suffer from coeliac disease or have a milk allergy, we loved reading about their certifications that confirm they are able to provide gluten free and dairy free food to their customers. They have an oven that is separate from the main kitchen where they can prepare their gluten free food, so it is 100% free from any risk of cross-contamination – we thought this was amazing and such peace of mind if gluten makes you really poorly. They also prepare their own milk-free mozzarella, made with rice milk, and on their menu you can see all the options that can be made gluten or dairy free. If you are looking for a safe option, fabulous pizza and tasty food, look no further than il Melograno!
Where can I sleep in Trieste?
We stayed with family during our visit to Trieste, but decided to treat ourselves and booked a night at the new DoubleTree by Hilton Hotel. The hotel has recently opened, so it still feels very new. It's in a gorgeous building, which was home to a bank for many years before being redeveloped as a hotel. The rooms are spacious, modern and with sleek interiors, and incredibly reasonable for the price you pay (£230 per night with breakfast for 2 large deluxe rooms). We wish we could have stayed there for longer! We only had breakfast at the hotel, which was delicious, and there was plenty of choice with all the options clearly labelled. Make sure you call them in advance to discuss all your dietary requirements so they can make sure they can offer you some safe options during your stay. I thought the staff at the restaurant/breakfast room were all incredibly professional and even showed interest in some of the products we had with us, which were nut free, and took pictures of them so they could buy them for the hotel! Highly recommend.
What are the top 14 allergens called in Italian?
If you are in a shop or need to explain to a restaurant what you are allergic to, here are the top 14 allergens in Italian:
Celery – sedano
Crustaceans – crostacei
Eggs – uova e derivati
Fish – pesce
Gluten – glutine
Lupin – lupini
Milk – latte e derivati
Molluscs – molluschi
Mustard – senape
Peanuts – arachidi e derivati
Sesame – sesamo
Soybeans – soia
Sulphites – anidride solforosa e solfiti
Tree nuts – frutta a guscio/frutta secca a guscio
I really hope you enjoyed reading my blog. If you have any comments or you would like to publish your story on our website, please get in touch.