Creating an Allergen Free Food Brand - Angelic
Brands & products
09.06.2022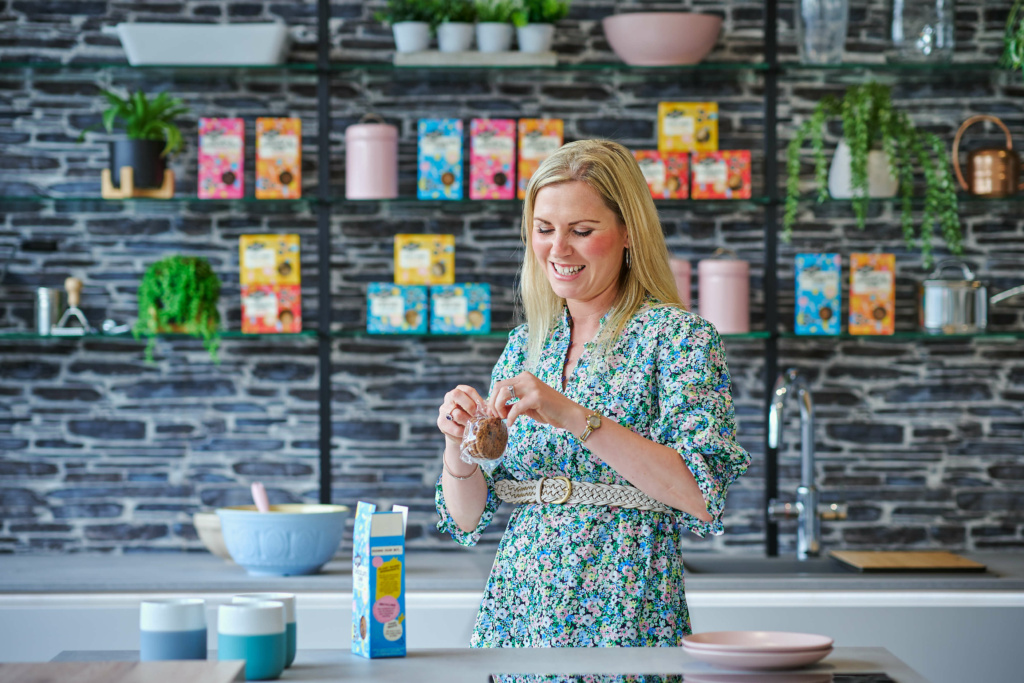 by Kirsty Dingwall
My story
My journey with Angelic started over 10 years ago back in 2012, when I suffered from food intolerances, and discovered that there was an opportunity to create a tasty range of vegan and gluten free treats. The first products I created was a range of vegan and gluten free chocolate cookies. I started baking them in my home kitchen, and then started selling our vegan and gluten free cookies to local shops and cafes.
The business really changed for me once I became a mum, and discovered that my son had a dairy and soya allergy. Before his first birthday, we learnt about his dairy allergy, and shortly after, discovered that he also had a soya allergy. This was a really challenging time in life and it was really difficult to see him so upset, he was losing weight and was really unhappy due to the pain he was experiencing.
The initial challenges
Trying to find allergen free food that was both dairy and soya free was very difficult at the outset. I quickly became aware about how many food products contain either dairy or soya, and really struggled to find suitable dairy free and soya free foods.
Almost everything I picked up came with a 'May contain' warning, and I realised that there was a real lack of allergy safe food that catered for multiple food allergies. After a while, I discover that oat based products worked very well for him, and this made life easier when managing his food allergies.
During this time my daughter started school, which was a nut free school. I have friends who have children with severe nut allergies who attend the school, and when speaking with them about managing their children's nut allergies, I realised that they faced great challenges. They explained how almost every baked food product comes with a 'May Contain' warning, and life can very be very stressful catering for a nut allergy.
7% of children in the U.K. suffer from a food allergy, and there is a great lack of choice in the market for allergy kids. Having discovered this, we've made it our mission to create safe and delicious allergen free food that those children living with food allergies, and their families can enjoy.
Our products
All our allergen free foods are made in a dedicated allergen free bakery, and we go above and beyond to make sure that our products are the safest allergen free foods in the market. We check every ingredient to make sure that it is free from the top 14 allergens, and no ingredients containing food allergens enter our site. That's right, all our products are free from gluten, dairy, soya, nuts, eggs and sesame.
Our vision at Angelic is a world where food allergies and intolerances are taken seriously in schools and society, so those affected are understood, catered for and protected, without bias or judgment. Our purpose is to help those affected by food allergies stay safe, so they can live free from worry.
We currently make a delicious range of vegan and allergen free chocolate cookies, and a range of allergen free savoury biscuits. Our chocolate cookie range is available in three delicious flavours: Double Chocolate, Chocolate Chip, and Ginger & Chocolate Chip.
Our allergen free savoury biscuits are so versatile, and are perfect served with salads, or topped with hummus. These are also available in three flavours: Rosemary & Sea Salt, Chilli & Caramelised Onion and MultiSeed. Our products are available in Holland & Barrett stores, Selfridges, Amazon, our own online shop and many independent health stores throughout the U.K. We're currently working on some new and exciting allergy free snacks for kids, and can't wait to share our new ranges soon!
Thank you for reading my story and I hope you enjoy my products,
Kirstyxx
You can also enjoy a 20% off all the Angelic products on our Star Brands page.
You might also love reading our other blog about the story of Good It's Gluten Free.